Book Review: HUMANS OF NEW YORK: STORIES – "We're All Human, But That's Not All We Are"

Book: Humans of New York
Published: 2015 (U.S.)
Author:  Quoted from the official site's synopsis: "In the summer of 2010, photographer Brandon Stanton began an ambitious project: to single-handedly create a photographic census of New York City. The photos he took and the accompanying interviews became the blog Humans of New York. His audience steadily grew from a few hundred followers to, at present count, over twelve million. In 2013, his book Humans of New York … immediately catapulted to the top of the NY Times Bestseller List where it has appeared for over forty-five weeks. Now, Brandon is back with … Humans of New York: Stories."
Characters: The People of New York. Colourful personalities are captured with personal anecdotes, with 100s of full colour photos. The variety of quotes by NYC's representatives range from funny, sad, touching, whimsical, inspirational, philosophical, dark, and poetic.
---
Plot: This NY Times Bestseller is based on Stanton's blog, which has millions of fans. He captures the spirit of this busy metropolitan city, by interviewing so many different people, from young to old, and rich to poor. There's also some mentally unstable people, and some eclectic artists. The Humans of New York don't always say what you'd expect. It's like that old saying, "Never judge a book by its cover," except this book asks how you judge a person based on their picture.
---
That Moment In – Humans of New York: Stories
An elderly woman is asked about the trials and tribulations of a long life. Paraphrased, she says life is hard sometimes. She almost feels like giving up, and then she says she bites into a delicious pear and all is better. After reading a darker, and more reflective passage, Stanton is sure to add some brevity and shift the mood when it's most necessary. This Moment is a perfect example of that.
I was expecting a sad story perhaps, and then this sweet old woman hits you with a pearl of wisdom. Enjoy life while you're still here. There's so much to be grateful for, and there's so much to experience. Our senses are a miracle we grow accustomed to. This book (and this Moment specifically) reminds us to take a second and enjoy the view.
There is a culminating effect in reading Humans of New York: Stories. You can pick it up and simply read it for 5 to 15 minutes; however, it's the longer sessions that will seep into your heart. You almost feel like you are interviewing people, then something magical happens, and you begin to feel like these people. Through this incredible book you get to experience a city's worth of individuals.
---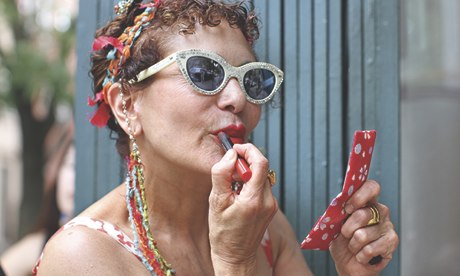 Why It Matters: The experience gets rather emotional. Some longer stories get multiple photos, to help accentuate the text. These anecdotes are so personal the emotion weighs even more, especially when you get hit with one after another. There is shocking honesty (like interview subjects who never talk to anyone, or those that reveal their deepest fears or secrets) alongside youthful playfulness (like eating ice cream or horsing around in the park).
One page will have a man interviewed while waiting for his girlfriend so they can break up, then the next page will have a child talking about their future aspirations. Reading Humans of New York: Stories almost feels the same as watching an inspirational crowd-pleasing movie like Forest Gump. Stanton balances humour with emotion. He sets you up with perfect staging, where a sad moment will be followed by a laugh to break the tension.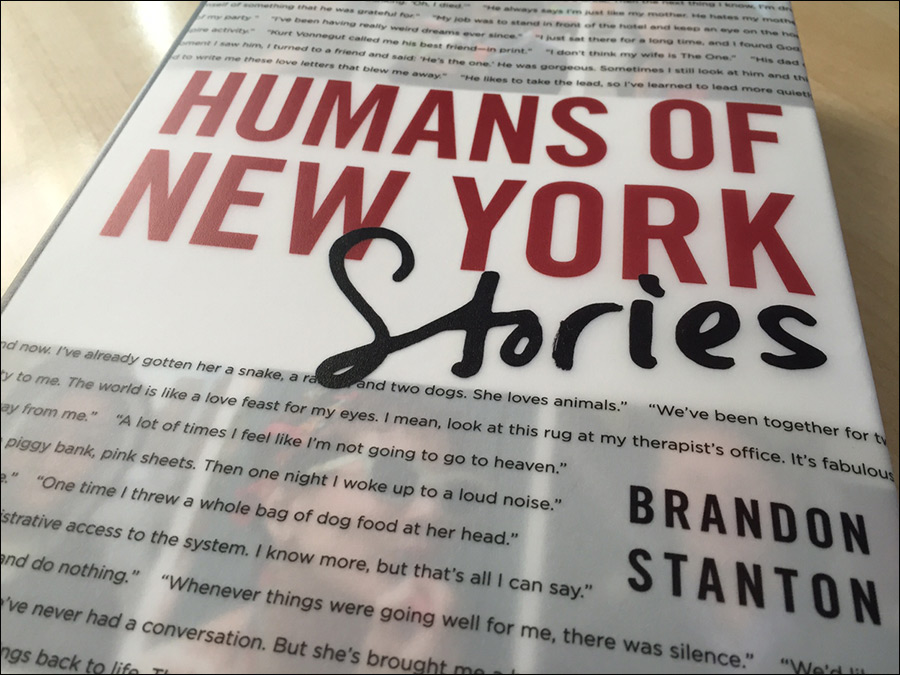 Sometimes you want to pick up a book without a story. Sometimes you don't want to read about history. Sometimes you want to read about people you've never met in quick one image, one thought glances. Who knew this is exactly the type of book we need sometimes?
Don't dismiss it as a simple picture book. Stanton's collection is illuminating. This contemporary structure of daily blogs turned to brilliant coffee-table book (with a totally nerdy sleeve design) is incredibly effective.
Humans is an appropriate title. That's what we all are, but that's not all we are.