CINEMA REMEMBERED: The Fifth Element and the KUNG-FU OPERA Moment
THIS WEEK: The Fifth Element (1998) – The future fate of humanity lies in the hands of a mysterious super-powered being (Milla Jovovich) and a cab driver (Bruce Willis).
HOW IT STARTS: A blue-skinned opera singer begins her performance, as our hero is approached by the enemy.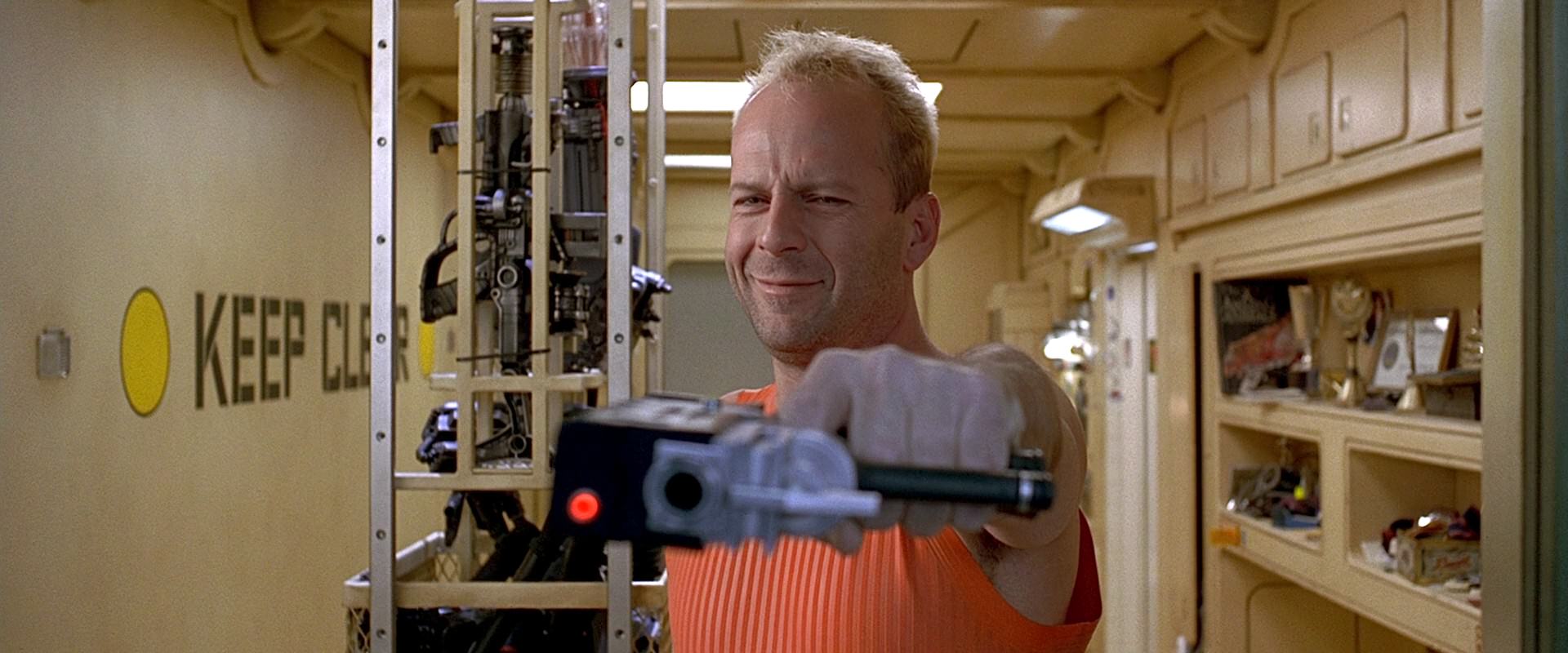 THE PREFACE: Luc Besson directed some great action films before he got around to this sci-fi action fantasy mash up. The French writer/director/mega-producer kicked things off with his female assassin action flick La Femme Nikita, and broke down the door with Leon (aka The Professional) a little hitman movie with a big heart. After the success of his first two cult classics Besson could pursue his dream of making a big budget special FX-filled sci-fi epic.
The Fifth Element is as close to Star Wars as it gets. We get aliens, gun fights, fist fights, tons of creativity, and tons of laughs. The future-set save-the-world story stars Bruce Willis as Korben Dallas, a taxi driver who gets the biggest fare of his life: a super-powered alien being (Milla Jovovich as Leeloo Dallas-Multipass) who falls out of the sky and crashes into his cab. Korben joins her quest to save the galaxy by uniting four sacred stones representing the four elements of nature around a special fifth element: Leeloo herself.
Jovovich's mysterious character was cloned from surviving DNA from an alien space-crash. High-tech science brings her back to life. She is remade as an adult human female, but her mind is a blank slate. Luckily, her genes equip her with incredibly quick learning abilities. It doesn't take long for her to realize this lab she was created in is dangerous. She escapes and lands in Dallas' cab.
Eventually, our two heroes find the old wise man who fills in all the blanks. The coolest stuff is how quickly Leeloo can adapt to her environment. She uses computers to teach herself about the universe. She operates technology no problem, nuking a chicken to watch Bruce Lee videos. Another awesome ability is by simply watching a martial artist Leeloo becomes one. It's like The Matrix via Google. Now that she's powered up, Leeloo sets on a quest to find the sacred stones. Korben plays her Short Round and joins the adventure.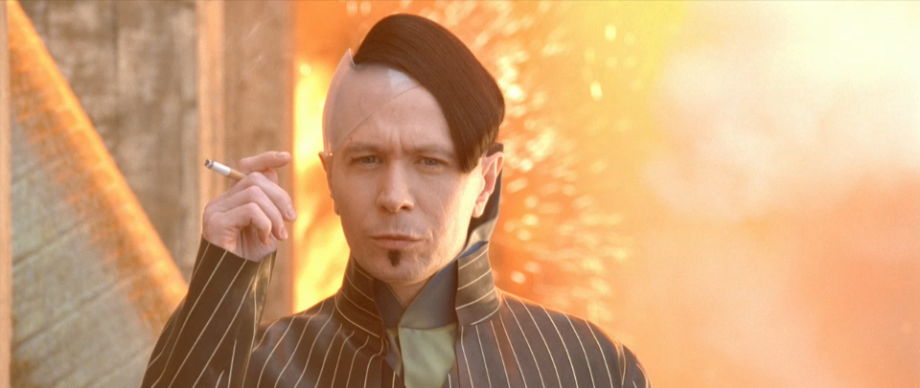 THE SET-UP: The action-packed story is pretty straight forward. Gary Oldman plays the villain here. He's a weapon manufacturer who wants the sacred stones for himself. Oldman hams it up on screen with a deliciously over-the-top performance. He orders about an alien race, acting as his henchmen. Soon enough they cross paths with our heroes.
Korben and Leeloo are in Phloston Paradise, a vacation resort of the stars. They are set to have a secret meeting with an opera singing Diva after one of her concerts. The singer has one of the elemental stones in her possession. Once they retrieve it, our heroes will fight their way to unite the five elements and save the world(s). It is during this opera performance that the big bad baddies arrive.
THAT MOMENT: An alien singer from another world performs to a massive sold-out opera house. The blue skinned Diva has a domed head with hanging tendrils draped over her shoulders. The beautiful character design helps set the mood, but really it's the peaceful and serene singing that does the job best. Wide framing provides a grand scale as the singer belts out a truly epic song. Meanwhile, Korben watches in awe from the audience, as the scene cross-cuts to Leeloo in the hotel area.
Our orange haired alien hero awaits the arrival of the enemy in the Diva's suite. Oldman's aliens for hire dock on the outer space hotel, barging their way in to retrieve the sacred stones. Leeloo readies herself for the attack. It's a good thing she watched some Bruce Lee videos earlier. She's going to put these new-found skills into use. These alien henchmen aren't crashing this party. The scene jump-cuts back to the opera. The song arcs towards its climax, building with momentum. It starts off slow and dreamy, like the Diva is reaching out and beckoning to Korben in the audience. It builds with tempo along with the cross-cutting back and forth. When the opera crescendos, it shifts styles into an upbeat synth techno dance track.
The scene jumps back to Leeloo as she dispatches the baddies with martial arts and a balletic prowess. Her ass kicking feels just as fluid and beautiful as the opera. Her fist slams with the beat, timed for emphasis. Watching the action matched with the song's rhythm amps up the excitement incredibly. Once the action kicks into overdrive, so does the Diva's lyrics, fluttering up octaves at a deafeningly high pitch.
This typical fight sequence becomes anything but typical due to Besson's stylish direction, choreography, music, and editing. There's even a little Three Stooges playfulness throw in to punctuate the end of the scene. This Moment is just amazingly fun as a whole, combining cinema with popcorn perfectly.
THAT MOMENT REMEMBERED: In a movie full of so many stellar moments, this martial arts opera house ballet was the most memorable. It totally captures the tone of the film. This cult classic is simply a blast to watch. The Fifth Element is entirely fun. This crazy action flick is also beautiful to look at. All of the conceptual designs (from the sets, to creatures, to costumes, to gadgets, and weapons), are outside of the box and visually astounding.
Besson is a visual director who appreciates the art. He just happens to apply these techniques to the summer blockbuster style action genre. He isn't worried about going over the edge. Besson wants to create new worlds and push the boundaries. The Fifth Element was the first time he was given such a large scale concept, but he totally delivered and deserves another chance at helming tentpole entertainment. He's proven with his recent hit, Lucy (with Scarlett Johansson), that he hasn't lost a beat.
Besson made Milla into an action hero, by giving her the role of a lifetime. There are several iconic images of Jovovich in hero mode, all convincingly and stylishly framed by Besson. Because of her brilliant physical portrayal of Leeloo, she starred in many other action movies, most notably leading the way in the super successful Resident Evil franchise.
There aren't many big scale epic sci-fi action flicks that hold up years later and are still just as exciting. This special movie fills a large gap of quality original properties. Most mega-action flicks are based on familiar material because they aren't so risky for Hollywood to bet millions of dollars on.
The Fifth Element is the rare gem sparkling amongst a mound of turds. Don't lump this underrated classic in with all the other sci-fi b-movies out there. This one stands tall when compared with all other original big screen stories.
---
Director:
Stars:
---
NEXT WEEK: Ridley Scott's epic sci-fi original, ALIEN